Description
Madhubani Silk Sari: People of India believe that the king of Mithila adopted this art form to capture his daughter Sita's and Prince Rama's wedding. The paintings were also known for their presentation of natural subjects like the moon, flowers, sun, plants, birds, and so on. Women in India and parts of Nepal have been performing this art for generations.
This premium product was displayed at the Nehru Centre, London from 20-24 March 2023.
Features :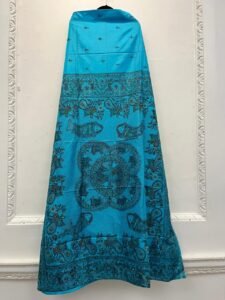 Colour: Cerulean Blue
Weight: 250gm
Dimensions(in):
Material: cloth
Care:
Art: Madhubani
Theme:
Handwork: Handmade
Communities Supported: Tribal artisans
Handmade Nature: There might be slight variations in product colour and art, when seen in real, due to the handmade nature of the product.
Shipping Info: Dispatched in a maximum of onward-winning days. This product is made on order.
Description :
MITHILAsmita, a UN Women award-winning Indian art enterprise, through its global online store 'ArtNHer' works towards 'preserving art and supporting livelihoods', by continuously innovating through unique socially conscious Madhubani art and art-based lifestyle products supporting artists, artisans and weavers communities of India.
ArtNHer, as the name suggests, is MITHILAsmita's endeavour to supply museum-quality crafts of women through heritage art, while catering to the global demands of museum-quality authentic Indian art merchandise.
Your purchase is going to support us in our mission!