Blog
Follow Along
ArtNHer art gifts are designed for corporates, museum shops, and event gifting with heart and consciousness. Aesthetically designed to appeal to the most special people, they are made using natural breathable textiles such as the finest cotton and silk of India, which positively impact traditional weaving and farming communities of rural India. The art on the fabric represents a heritage that is usually practiced by rural women folk.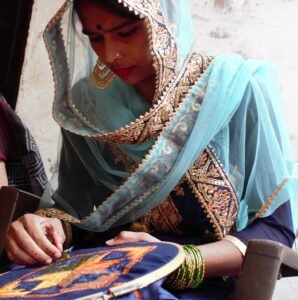 The fabrication of the products affects women and men from urban slums, resulting in nothing but the best gifts from India. It is no wonder that they have been gifted to the who's who of the corporate world and government agencies in India. Our gifts are not just functional; they are timeless treasures that stand out in any gift collection and become a point of pride for both the giver and the recipient.
As impact crusaders, we are now introducing a new range of merchandise made from textile scraps, taking our impact gifts to a new level. In addition to the positive impact created by our gifts, we are also reducing textile waste and promoting sustainability by creating innovative merchandise such as eye masks, personalized name tags, bookmarks, and more. Our gifts are not created in a factory mode, but with the utmost care and attention to detail, making every piece unique and personalized. We believe that gifting should be a very personalized experience, and therefore, we do thousands, but by the hands of hundreds, and each piece should have a story to tell and bring a smile to the face of the person receiving it.
Our gifts help build relationships, and that is why a lot of emotions go into every design at ArtNHer.
Fabric BookmarksIn a world where environmental sustainability and social responsibility are essential, it's necessary to find ways to create economic opportunities while preserving the planet. The production of fabric bookmarks made of handloom silk and hand-painted...