Description
Dhokra man playing mandolin: Dhokra Metal Craft are handcrafted by rural women and men artisans of India. This craft dates back to the Harappan Civilization and the famous Dancing Girl of Mohenjo-Daro was created using the same lost wax technique of Dhokra Metal Craft. The tribal artisans practicing this craft live in different states of India.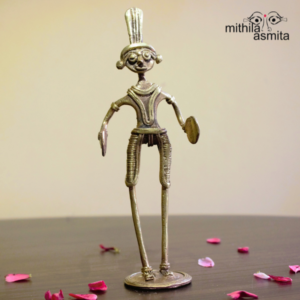 Features :
Colour : Golden
Weight : 350gm
Dimensions(in): 6.5 by 2.5 by 2
Material : Metal alloy
Care : Wipe with a dry cloth
Art : Dhokra Metal Craft
Theme: Dhokra man playing mandolin
Handwork : Handmade
Communities Supported : Tribal artisans
Handmade Nature : There might be slight variation in product colour and art, when seen in real, due to the handmade nature of the product.
Shipping Info : Dispatched in a maximum of 18 business days. This product is made on order.
Description :
MITHILAsmita, a UN Women award winning Indian art enterprise, through its global online store 'ArtNHer' works towards 'preserving art and supporting livelihoods', by continuously innovating through unique socially conscious Madhubani art and art-based lifestyle products supporting artists, artisans and weavers communities of India.
ArtNHer, as the name suggests, is MITHILAsmita's endeavour to support the livelihood of women through heritage art, while catering to the global demands of museum quality authentic Indian art merchandise.
Your purchase is going to support us in our mission!